The following article was written by a Syrian journalist who has documented the hardships facing Syrian refugees. We saw his desire to help when he wrote to World Compassion, asking us to share his articles with the world to raise awareness for these refugees, that his people may receive the aid they desperately need. He has asked us to keep his identity a secret for his protection. Please help share his story.
A great number of Syrians leave their homeland every day to neighboring countries as a result of the escalating level of violence and the massive scale of destruction caused by the ongoing war in Syria. Syrians who flee face tough decisions, whether to find safety in a camp or go it alone in a new country with the hope of starting a new life. Due to a lack of finances, many people must choose a tent camp. But at times they are confronted with the reality they may not have room to accept them, which leaves many Syrians on the street.
Syrian refugees face the challenge of starting a new life under difficult circumstances outside a camp. There are challenges with adapting to a new society which may not readily accept refugees. Ethnic tensions have flared in places like Lebanon. Many struggle in finding jobs and learning a new language as in Turkey. The hope of a better life has caused many refugees, mostly youth, to immigrate illegally to Europe. They seek asylum in countries such as Sweden and Germany, seeing this as the best option for a future.
Many walk hundreds of miles in rural areas with exposure to great danger only to cross the borders to Europe.
There are various routes into European countries. Syrians in Egypt and Libya usually immigrate by sea, sailing toward the shores of Italy, while Syrians in Istanbul use different methods. Borders are breached illegally to Greece or Bulgaria, either by walking or crossing the river that separates Turkey from Greece. Others fly by plane to Europe with a false passport. The higher the price, the easier it is to enter Europe. Prices are escalating every day, with fake passports costing up to $15,000.
While many illegal immigration trips end at the borders, some of them succeed in entering Europe, but fail further on. Mustafa, a young man from Damascus and an IT graduate, tried and failed to enter Europe.
Mustafa came to Istanbul hoping to find a good job and reunite with his wife. But he only survived by doing odd jobs and found no stable employment. He collected enough cash to pay the trafficker $1,200 for safe passage. The trafficker also was clear about the chance of failure.
There were seven in the group of refugees hoping to escape to Greece. They walked for hours in darkness. "It was cold! It was so cold that by the early hours of the morning the water inside our plastic bottles was turning into ice," Mustafa said.
They kept on walking through the night until they reached the river that separates Turkey from Greece. The trafficker started to set up an inflatable boat. Nervous tension filled the air. Mustafa recalled, "The trafficker was very nervous when he was filling the Kayak because of the air-compressor sound." They crossed to the Greek side of the river. "It took us less than 5 minutes to cross," he said.
They resumed walking until they reached a small building in the middle of nowhere. The trafficker told them to change their clothes because they were dirty and full of mud, and to rest because they have a long way to Alexandroupoli, the city in which they were supposed to take the train to Athens.
When they reached Alexandroupoli, the trafficker left them at a safe house. "It was full of people who were also illegal immigrates," Mustafa said. The trafficker left to purchase train tickets for them. He was supposed to come back shortly, but he didn't return.
Mustafa decided to take a walk to clear his head, but the Greek police stopped and questioned him. They loaded Mustafa in a police van for deportation. Inside the van Mustafa saw the trafficker, and that's when he realized their plan had failed.
Nevertheless, many Syrians have made it to Europe and gained asylum in countries like Sweden, Germany, France and Italy. These success stories fuel the hope of many Syrian refugees who continue to work with human traffickers and attempt illegal immigration.
Refugee camps provide a safe environment with daily provisions of food, water, medical and education. Governments in the area are not prepared to meet the needs alone.
World Compassion continues to provide food, medical and other aid to Syrian refugees living in Kurdistan, Northern Iraq.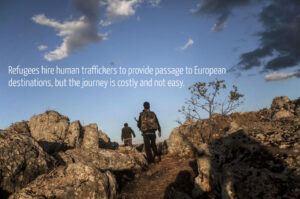 Inspiring Love
You can partner with World Compassion and provide food for $25 per month for a Syrian refugee.
Learn More
Learn more about World Compassion refugee relief for Syrians in Iraq.