EQUIPPING LEADERS…
This spring we celebrated the first graduating class of 40 students from the New World Compassion Ministry Training Center (MTC) in southern Burma (Myanmar). Our mission is to help train and equip the local church in the nations where we work, and this new training program is proving to effectively accomplish that mission.
The MTC 9-month program is incredible and is producing future leaders who are knowledgeable, experienced in practical ministry works, and passionate about planting life-giving, mission-minded churches in difficult environments throughout southern Burma.
Through MTC, World Compassion is training future church leaders to go into areas most are not willing to go. One graduate, Shining Star, wants to plant a church in Naw Dawn City, a community that's over 90% Buddhist.
When he went to Naw Dawn City to visit, he preached Jesus to a few people who immediately accepted Him as their Lord and Savior. Shining Star realized how important it was to see a church planted there. He told us, "If there is no church, people won't be able to hear. It's so important to plant a church so people can hear the message of Jesus and make a decision to follow Him. Then we can expand the kingdom of God… I believe strongly that this 9-month course prepared me in my heart to plant this new church."
In my opinion, the most efficient and effective form of mission work is training and equipping the indigenous people. They understand the culture and the language, they have relationships established, and typically they have a much better understanding of the prominent religion in the country where they live. MTC equips and mobilizes local church planters from Burma to advance the kingdom of God in their own nation.
Our ministry is looking ahead and preparing to take this Ministry Training Center to the next level. The funding for the students to attend this coming school year has already come in – what a blessing! Up to this point, MTC students have been living in a temporary bamboo shelter.
Now that we have proven the Ministry Training Center is effective, we desperately need a building more suitable and permanent where students can live, study, and grow.
These students will go from living in a bamboo hut without plumbing or electricity to a dormitory with bathrooms, lighting, a study area, a library, and real bedrooms! If we provide the environment and the training, we know these MTC students will be better focused on this opportunity and grow as leaders.
This new dormitory will house students for years to come – the impact potential is tremendous. This is not just a "bricks-and-mortar" project. This property will be a tool used to house a program that will prepare people to fulfill their God-given purpose in life.
In addition, improvements need to be made to the existing kitchen area on this property to better accommodate cooking for the MTC students. An improved kitchen will make a significant impact for the children at the orphanage and MTC students, while also allowing the church to host special cookouts for its regular attendees and the community they are reaching.
The total cost of the building to house 40 students and the kitchen improvements will be about $84,000 (£55,000). This is a special vision project over and beyond our current mission budget and our current monthly mission projects.
Our goal is to have all funding in and the building completed by this time next year – just in time for the 2016/2017 school year. For us to do this, we must start the permitting and building process now to accomplish the majority of the construction outside the rainy season.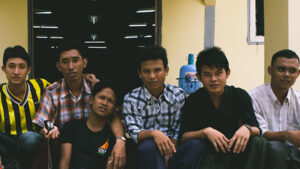 …TO PLANT CHURCHES
World Compassion is going a step further and helping one of the Ministry Training Center graduates plant a brand new church in a village he has been reaching. We are also planning to help plant two, possibly three, more churches in the coming months!
This is ultimately what we hope to see in the coming years through our MTC program – more leaders equipped, more churches planted, and more people reached throughout the nation of Burma.
We are helping to secure land and build a building for the church to begin meeting in. It will be a powerful statement in this community. Although a building is not the church, it will become a place where the church comes together to worship, learn, and encourage one another. It will become a symbol of hope, peace, and joy to those deceived by the enemy. The new life of Jesus Christ will be experienced in this place!
It costs about $41,000 (£26,850), depending on the specific cost of land and materials used, to help build a new church. With two more churches ready to go, this is an additional $82,000 (£53,700) this month.
We are believing God for an additional $166,000 (£108,700) for all the expansion we have planned for ministry in Burma. Will you pray and ask God what He would have you give towards building this dormitory for the ministry training students and these two additional church plants? Then, simply obey!
In just a few weeks, the next class of students will begin their training. Please be praying for these young men and women to grow in their understanding of God's Word, have confidence in who they are in Christ, and have clarity about the work God is calling them to.
In Christ,
Jason Law